Shwmae... Salaam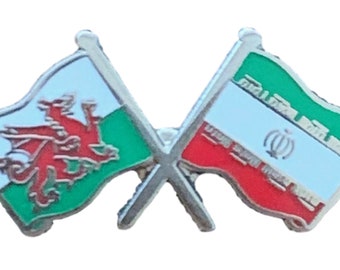 Welsh and Iranian flags (Image: etsy)
Hello and welcome to 'Cymranian'. From as far back as I can remember, I have always been proud to be both Welsh and Iranian. To me, it felt normal and right.
Even when I was knee high, I actively sourced places abroad with links to Wales, and UK with Iran. When it came to football, I'd often hope for an Iranian or two to sign to a Premier League club, or discover a Welsh personality pack their bags to embark on a journey to the Middle East. In my mind, both Wales and Iran successes and cultures needed to be recognised in all its splendour around the world.
In recent years, I have certainly noticed Wales been given increased recognition abroad. No longer is its capital Cardiff a place only recognised because it is "150 miles away from London", as I'd often described where it was to people beyond the English Channel. I was in Denmark recently and when someone asked me where I was from, and I said "Wales", I got the loud response of, "Gareth Bale!"
This, to me, is progress.
I have also noticed how the perception of Iran in the UK has changed, thanks to modern culture. While politics can still be in the minds of many, when I say to strangers, "I'm half Iranian", I get stories about how one visited Iran once in the 1970s and loved it, tried Persian cuisine and loved it, or about how they thoroughly enjoyed the most recent gigs of comedians Omid Djalili and Shappi Khorsandi.
This, to me, is progress.
Fast forward to the present day, I feel propelled to step up the publicity of Iran's links to Wales, and Wales's links to Iran, however obscure some of these connections may be. I want to hear stories of those who have both Welsh and Iranian heritage, however far back they may be.
This is a unique and niche community that I'm hoping to build as I feel strongly it needs to be explored further. I don't want to delve into the history of either country individually, as there are plenty of books and resources that will do a better job of this than I. I want to create fresh content, hear from those who have their own journeys of being both Welsh and Iranian, whether they may be positive, joyful, emotional or even challenging.
I really want to make a relative success out of this page and hope you're able to support with your views, shares and comments.
Diolch and Merci,
John Saleh Price
**If you haven't cottoned already, Cymranian links both the words Cymraeg ('Welsh' in Welsh) and Iranian together. Clever, aye?**